The Crest and The Spade
Our crest at this time could be found on a cap of the 1880s showing a mangle of NDCC letters in the adopted green and gold colours.
The present crest is entirely different and represents a number of features intimately connected to the club.
Some are directly connected with the game like the set of wickets and the ball, the latter placed above the founding year. In 1845, thousands gathered in Comber Square, close to the house where Robert Rollo Gillespie had been born, to see the erection of his famous statue. His last words were recorded as, 'One shot more for the honour of Down'.
Scrabo Tower has stood overlooking The Green before cricket was even played there, the Distillery is another old landmark sadly out of production since the 1950s and only recently losing the chimney to a controversial and seemingly premature explosion! Its produce has been tasted throughout the decades - too often for one former groundsman who regularly slept off the effects in the pavilion!
The old Comber Spinning Mill has more recent and relevant links with the Club, not only through the Andrews family connection and their own Spinning Mill CC, but also for the many employees who played in the streets as youngsters and later represented their street at The Green in organised competition.In our quest to unearth some of the club's treasures we have secured for our archives one of the more important links with this period. Passed down from the Andrews family to the late Jim Barry, our former patron ensured that the spade would be in safe keeping and it has been decided by the North Down committee to frame and display it within the pavilion as part of our club heritage. This is the inscription on the little silver spade.
Presented to Mrs Thomas James Andrews of Comber
By the Committee of North Down Cricket Club
On the occasion of her Laying the First Sod
In connection with the Extension of the club's ground, Comber
20th Nov. 1893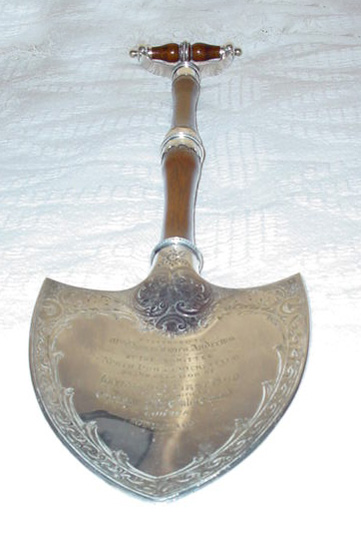 Mrs Thomas Andrews was the wife of the original owner of the estate and her husband played in the early 1st XIs and captained the side for one year only in 1892.