The name Edmund de Wind doesn't feature too highly in the North Down teams of the late 1890s or early 1900s, although the de Wind family had several players at the club. However, the 15-year-old Edmund was included in the historic photo album of members that was presented to Tommy Graham in 1898 when he retired as club secretary. Despite his frail build, the young de Wind would certainly have been a keen cricketer, as his family was very friendly with the Andrews and Stone families, and he would have been a willing participant in games at Ardara and Barnhill when the families got together. He was also a pupil at Campbell College from 1895 to 1900 so cricket would obviously have been one of his regular summer sports.
Edmund de Wind may have been a very ordinary cricketer, but he was certainly not an ordinary man, and his name is immortalized in Comber history as our only recipient of the Victoria Cross. On the green fields of France, far from Castle Lane, he brought great honour to North Down Cricket Club through his heroic acts.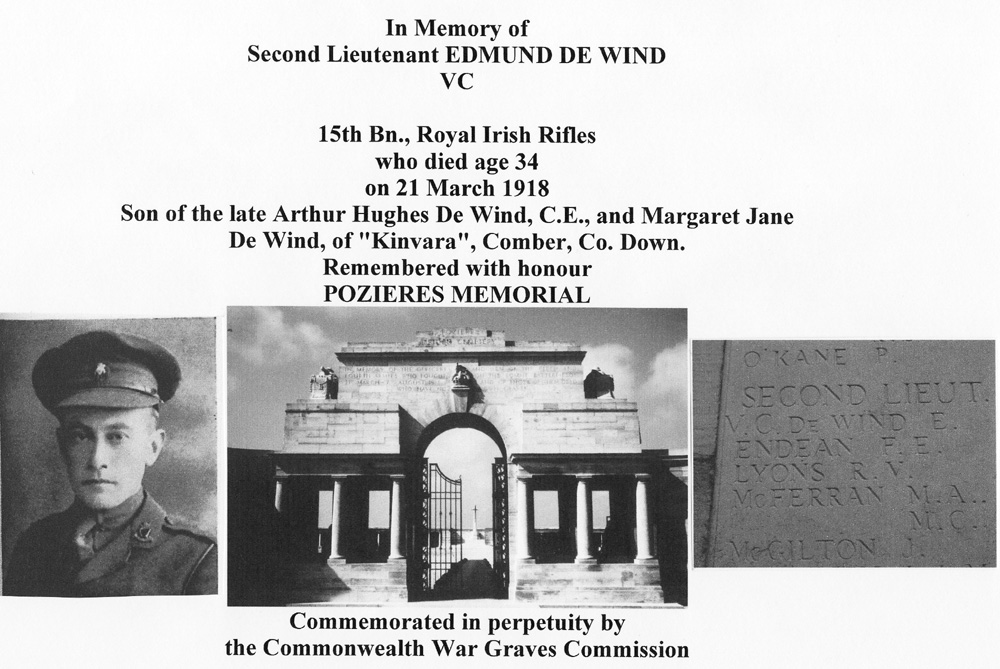 Edmund was born in Comber in 1883, the son of Arthur de Wind, chief engineer for the Belfast and County Down Railway. His mother was Margaret Jane Stone, and the Stone family lived at Barnhill on the Belfast Road, although the de Winds eventually settled on the Killinchy Road at 'Kinvara', a house that Arthur built himself. Young Edmund worked with the Bank of Ireland in Cavan following school, before emigrating to Canada in 1910, where he joined the Bank of Commerce. When war broke out he immediately enlisted with the 31st. Battalion (Calgary Regiment) of the Canadian Expedition Force and served in the machine-gun section in France from 1915 to 1917. He kept in close contact with his family in Comber and, it was said, he used his Andrews connections to gain the commission that led to his posting to the 36th (Ulster) Division in late 1917. He joined the Royal Irish Rifles and was in the frontline in France on 21st March, 1918 at 4.40am when the Germans launched a major offensive called Operation Michael, with a deluge of heavy artillery on the Allied positions.
The German onslaught was horrific and within a few hours their barrage of shells and gas had decimated virtually all the Allied frontline trenches. The 36th (Ulster) Division was hit at 9.40am and within minutes was almost completely overrun with heavy losses. Two positions bravely held out until late afternoon, and the third at Racecourse Redoubt near Groagie was where Second-Lieutenant Edmund de Wind of 15th Irish Rifles was pinned down. It was to prove a bitter end for this brave young Comber man who was wounded twice in the onslaught, but held his position for seven hours before another section came in support. He made several sorties into enemy trenches despite the heavy machine-gun fire but was eventually fatally wounded.
For his 'conspicuous bravery and self-sacrifice', Edmund de Wind was awarded the Victoria Cross posthumously, and the medal was received from King George V by his proud mother at Buckingham Palace on 21st June, 1919. His burial place is not known, but Mount de Wind was named in his honour in Canada and De Wind Drive was later named in his memory in his home town of Comber. After the war an old German field gun was presented to the Comber people and positioned in the Square in his memory, but it was later used for scrap metal in the munitions build-up to the Second World War. The metal engravings were saved and remain in nearby St. Mary's Parish Church where there is also an engraved plaque in his honour.
Every year the Comber fallen are remembered with special services on 1st July and Remembrance Day. It is a poignant moment to pay tribute to the brave young Comber men who made the supreme sacrifice, none more so that Second-Lieutenant Edmund de Wind, VC.